Historical Drive
of
Salem, Marion County, Illinois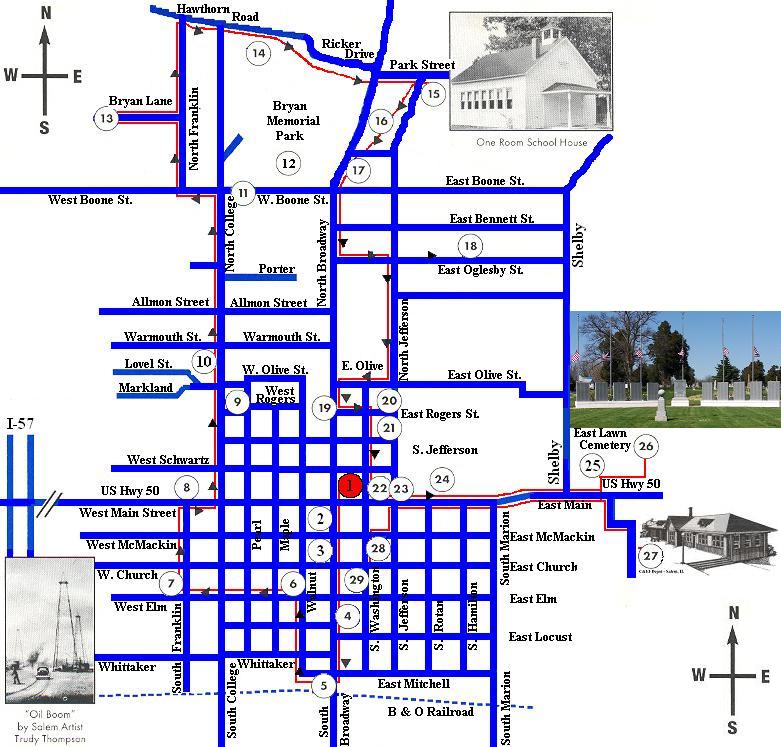 #1) Marion County Court House: Location: Town Square, Main (Hwy 37) and Broadway (US 50)
Located on the townsquare, the second courthouse at this location. The well knkown political phrase, "Tip-acanoe-and-Tyler-too," was coined on this location by Abraham LINCOLN, who was campaigning for the Whig candidates William Henry HARRISON and John TYLER.
A Civil War cannon, serial #13, which was used in the Battle of Shiloh, Tennessee, is located within the court house.



A mural of the life of William Jennings BRYAN, while in Salem, painted by local renowned artist, the late June GOLDBOROUGH, is also in the courthouse. GOLDSBOROUGH was known for her illustrations of children's books.

( Open to the Public 8:00 A.M. - 4:00 P.M., Monday - Friday. Closed holidays. )



#2) Salem City Hall:
Built in 1906 as the Salem National Bank, this building has served the city of Salem as city hall since 1964. The third floor originally served as the Masonic Hall.

( Open to the Public 8:00 A.M. - 4:00 P.M., Monday - Friday. Closed holidays. )



#3) Fire Bells:
Two old fire bells are on display in front of the Salem Fire Station. The norht bell was in service calling firemen or police from 1892 until 1957.



#4) Birthplace of William Jennings Bryan:
Located: 408 South Broadway.
On the National Register of Historical Places.
"Billy," as his friends knew him, was born here in 1860, son of Judge Silas M. and Maria E. (JENNINGS) BRYAN. Silas was a teacher, lawyer, school superintendent, state senator and circuit court judge. AS a devout Baptist, he would pray to God for assistance before he made a decision.

( Open to the Public Daily 1:00 P.M. - 5:00 P.M. Closed Thursdays and holidays. )



#5) B & O Railroad Depot:
Built in 1865 as the Mississippi and Ohio Railroad.



#6) Bachmann House:
Located: 315 South Walnut. Built: 1904 by Adam and Mary (Alkire) Bachmann.
The BACHMANN's were immigrants from Germany. Adam was the founder of the Bachmann Furniture Company and president of the Salem National Bank.
The Telford family bought the house in 1930.
In 1980, the home was restored by Leon CHAPMAN, Salem businessman and merchant.



#7) Lemen-Frakes House:
Located: 321 South Franklin. Built: 1842 by Rev. Benjamin F. and Mary Putnam (RAND) LEMEN.
Oldest Home in Salem
Rev. LEMEN was a Baptist minister and missionary. He was appointed Agent to the Indians of the west by President Abraham LINCOLN.
Abraham LINCOLN visited the home on several occasions. He spent the night at least once on 9 June 1849.
Lydia Gertrude, daughter of Rev. and Mrs. LEMEN, married Prince John SOBIESKI, heir to the throne of Poland. They were married in this home in 1879.
In 1909, the Julius and Anna (MAIER) MERTEN family moved into the home.
In 1941, the William Philip and Beatrice M. J. (MERTEN) FRAKES family purchased the home. Like the LEMEN family, the FRAKES family was active in the Republican Party.
Since 1981, the home has belonged to the Col. Philip Howard and Monna Marilyn (CONANT) FRAKES family. Col FRAKES served as Chairman of the Republican Central Committee. He served as Military Aide to Governors Jim EDGAR and George RYAN.
To know more about this home, go to: The Lemen-Frakes House



#8) B. E. Martin House:
Located: 530 West Main. Built: 1875 by Benjamin E. and Florida (Cunningham) Martin.
B. E. MARTIN began serving in the Civil War as a drummer boy and was at the Battle of Shiloh. Three of his brothers were also in the war, General James Stewart MARTIN, Captain Robert MARTIN and Thompson George MARTIN.
B. E. MARTIN was a businessman and in banking and held political offices as a Democrat. His brother, General Martin, held political offices as a Republican.
Governor Anthony Martin KEATING of Oklahoma is the great-grandson of B. E. MARTIN.

Unfortunately, The Martin House was torn down in 2009 by people who do not respect Salem's history.



#9) Second Baptist Church:
Located: 308 North College.
The Second Baptist Chruch was founded by Rev. B. F. LEMEN for the Americans of African descent in Salem. Rev. LEMEN, who was white, was the preacher for the church.



#10) Salem National Guard Armory:
Located: 831 North College.
Built: In the 1930's.
The location was originally the Salem Female Academy, founded and run by Mrs. Mary LEMEN. The academy was destroyed by a tornado.
The armory is still active today, with it's troops presently (2005) located in Iraq.



#11) Boone Street:
Located: North side of town.
Boone Street runs east to west and is allegedly part of Daniel BOONE's trail, for whom it is named.



#12) Bryan Memorial Park:
Located: North side of town. North-West corner of Broadway and Boone; North-East corner of Boone and College.
This park was originally called Hull's Grove. It was the location of the Marion County Soldier's and Sailors Reunion for over 100 years.
Merritt Drive, in the park, was named for Major General Wesley B. MERRITT, a Salemite who served with CUSTER and SHERIDAN and rose to command the Armies of the U.S.



#13) Silas Bryan Estate:
Located: At the west end of Bryan Lane, which is off of North Franklin.
Built: 1865.
The estate was the home of Judge Silas M. and Maria E. (JENNINGS) BRYAN and was the boyhood home of William Jennings Bryan.
The home, unfortunately, burned down.
In 1991, a beautiful and fitting new home was built on the site of the old home. It was built by Rick and Patti MOORE. The circle driveway of the home is made of bricks from the original home.



#14) Salem Township Hospital:
Located: 1201 Ricker Drive, northwest edge of Bryan Memorial Park.
This was Salem's 3rd hospital. The first was located on the northwest corner of North Broadway and West Schwartz, called Rainey's Hospital and was ran by Dr. George S. RAINEY. The second hospital was located on the southwest corner of Marion and East Church. That one was originally the home of Marion County Circuit Clerk John M. SCHULTZ. It is used as a home today (2005).



#15) One Room School House:
Located: Park Street, on the high school campus.
It is a memorial to days gone by. The school was originally East Nation School. It was relocated to this location then restored by the Marion County Teachers Association.
It was re-dedicated 5 June 1980.



#16) Salem Community High School:
Located: On North Broadway, across from the park. Built: Completed in 1852.
The Class of 1952 was the first to graduated from this location. It is a well maintained school and campus.



#17) William Jennings Bryan Statue:
Original Location: Washington, D.C. Present Location: On North Broadway, across from the park. Moved to Present Location: 1961.
This statue was created by Gutzon Borglum, famed sculptor of Mt. Rushmore, and originally dedicated by President Theodore Roosevelt May 3, 1934, in Washington, D.C.
William Jennings BRYAN: March 19,1860 - July 26, 1925; great orator, lawyer, congressman, newspaper editor, and lecture; Democrat presidential candidate nominee in 1896 and 1900 against William McKINLEY, and in 1908 against William Howard TAFT; Secretary of State for President Woodrow WILSON; Prosecuting attorney at the famed Scopes Monkey Trial in Dayton, Tennessee in 1925 (See #21 following).



#18) Salem Community Activities Center:
Located: On East Oglesby and Rotan.
Originally the Salem High School. It now serves the people of Salem for community activities, wedding receptions, dances, dinners, basketball games, etc.
Contact: 618-548-6261.



#19) The McMACKIN House:
Located: 413 North Broadwday.
This was originally the home of the prominent McMACKIN Family. The McMACKIN family has played a great part in the history of Salem. Salem's first city mayor was Colonel Warren E. McMACKIN. He was the first of five McMACKIN mayors of Salem. The house was for a time a restaurant, but is now used for a business.

McMackin Mayors:
Colonel Warren E. McMACKIN (1865-)
Charles Lincoln McMACKIN, Sr. (1905-1906)
James Ernest "Whoopy" McMACKIN, Sr. (1919-1922)
Omar James McMACKIN (1935-1943)
Charles Lincoln McMACKIN, II (1971-1975; 1979-1984)
In 1988, Flora Jane (GIBSON) McMACKIN, wife of Charles Lincoln McMACKIN, II, was elected as one of the two first women to be elected to the Salem City Council. (The other, who was elected at the same time, was Patricia BAUER (See #20 following).



#20) Salem Creamery Company:
Located: 401 North Broadwday. Built: 1906
The building was built in 1906 by Dwight W. LARIMER for the purpose of the creamery. The LARIMER's have always been a prominent family of Salem. They have owned the Larimer Abstract Company for several generations.
Fred BENKE, Salem's well-known photographer, later purchased the building. He lived in the 2nd floor and used the first floor for storage.
In the 1980's, the building was purchased by Brian D. and Patricia D. (PIZZO) BAUER. They renovated the building, living on the 2nd floor with their children. Pat ran her Salem Frame Company on the first. They also opened a bed and breakfast in the building.
Pat BAUER was one of the first two women to be elected to the Salem City Council in 1988. She and her husband eventually sold the creamery building and moved to his home town of Benton, Franklin County, Illinois, where Pat BAUER became the first female mayor of Benton, Franklin County, Illinois. Brian BAUER is in banking and is over several states with the Bank of America.



#21) Badollet House:
Located: 310 North Washington. Built: 1854 National Register of Historic Places

The first brick house was built in Salem for Howard and Tabitha (PACE) BADOLLET. It allegedly served as a stop on the underground railroad system.
John W. and Eva (WELLS) WHITE purchased the house in 1915 and had the house until 1989, when the widowed Eva died over the age of 100.
Brian and Pat BAUER (See #20) purchased it from the estate of Eva WHITE in 1989. The began the restoration process of the house.
In 1994, the BAUER's moved to Benton, Illinois and sold the house to Ed and Jody (WALKER) SMALLEY, who finished the restoration.
John Thomas SCOPES boarded here while he was attending Salem High School, which he graduated from in 1919. William Jennings BRYAN was the guest speaker at his graduation. William Jennings BRYAN was also the prosecuting attorney at the Scopes Monkey Trial. Scopes was the defendant at the 1925 trial. Fact is, BRYAN and SCOPES were friends, as were his son, William Jennings BRYAN, Jr. and SCOPES, and they remainded so throughout the trial. BRYAN even offered to pay the fine if Scopes should lose the trial.



#22) Kraft Miracle Whit Salad Dressing:
Located: 100 North Washington, corner of Washington and Main.
This corner brick building was once Max Crossett's Cafe. In 1931, Kraft purchased a recipe from Mr. CROSSETT, known as Max's X-tra Fine Salad Dressing. Kraft paid $300.00 for the recipe and changed the name to Kraft Miracle Whip Salad Dressing.



#23) American Legion/G.I. Bill of Rights:
Located: 212 East Main.
On 4 November 1943, following an American Legion Dinner, plans for were drawn up here by Omar J. McMACKIN of Salem, Earl W. MERRITT of Salem, former Governor John STELLE of McLeansboro, Dr. Leonard W. EPSER of Springfield, George H. BAUER of Effingham, William R. McCAULEY of Olney, James P. RINGLEY of Lemont, and A. L. STARSHAK of Chicago for what was to become the G.I. Bill of Rights. The plan was then taken to Washington D. C. by Governor STELLE, who was with President Franklin Delano ROOSEVELT when he signed the G.I. Bill of Rights into law on 22 June 1944.



#24) State Coach Station:
Located: West edge of the IGA parking lot on East Main.
The former location of the Stage Coach Station, which was on the Vincennes-St. Louis Road (now US 50). Behind the IGA, on the banks of town creek, once stood a steam operated brick plant.



#25) Marion County Veterans Memorial/East Lawn Cemetery:
Located: Northeast corner of East Main (US 50) and Shelby.
On Memorial Day, May 26, 1997, the Marion County Veterans Memorial was dedicated in East Lawn Cemetery. It contains the names of all deceased veterans of Marion County, from all wars and conflicts.



#26) Gypsy Royalty/East Lawn Cemetery:
Located: Northeast corner of East Main (US 50) and Shelby.
Members of the Joles and Broadway Families have had a tradition for years of visiting Salem every Memorial Day weekend and elaborately decorating the graves of their deceased loved ones. The gypsy clan have buried their people in Salem for many years.



#27) C&EI Railroad Depot:
Located: Just off East Main (US 50), across from the East Lawn Cemetery.
This once busy depot served many passengers for the Chicago and Eastern Illinois Railroad. It was purchased from the railroad and turned into a successful restaurant in the early 1990's by Catfish RUSSELL. It went under extensive renovation in 2006 by its new owners, Doug FONTANA and his wife Pam SEE. Grand Opening was 21 March 2006. Doug is of the famous Missouri Baking Company family on "The Hill" in St. Louis. He has been in the restaurant business his entire life, managing some of the most popular restaurants in Hollywood, California, including La Boheme, one of the popular restaurants to the stars. Pam is of the Marion County See and Conant Families, which is what brought Doug to Salem.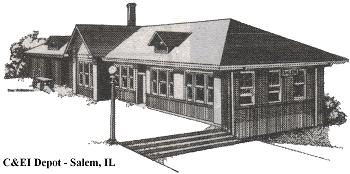 #28) Presbyterian Church:
Located: 201 East McMackin.
This was the church of William Jennings BRYAN. It has a beautiful in-laid podium that was a gift of BRYAN.



#29) Green-Johnson House:
Located: 301 South washington.
The house was originally built for Dr. Thomas J. GREEN. It was renovated by then owners Jay Dee and Rae JOHNSON in the 1990's.







Links

Salem, Illinois

Copyright © 2004-2021 Stephen P. H. Frakes All rights reserved.